(Park Hills, Mo) - Missouri's newest COVID-19 hotspot is now St Francois County.  The county topped 716 cases Wednesday afternoon since March 22, with 343 active cases currently, and is seeing cases multiply faster than any other county in the state per capita, according to state and local health agency data.  Of those 343 cases, 128 are part of the Department of Corrections outbreaks in Farmington and Bonne Terre.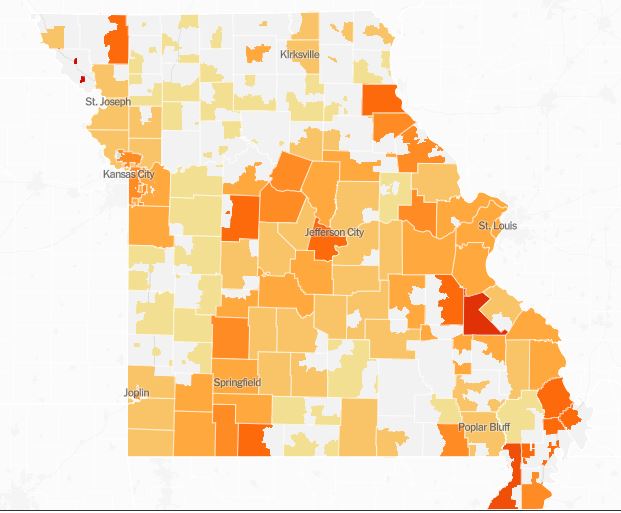 Photo Source: State and local health agencies and hospitals.
The County's health department continues to state: "Due to the rapid increase in cases, our capacity to investigate cases in a timely manner is not possible. We are seeing active community transmission. Every interaction with persons outside your household should be treated as a risk for transmission."
The Health Center is asking the public to do the following:
If you test positive for COVID-19, please stay home and isolate yourself away from others. People who are in isolation should stay home until it's safe for them to be around others. In the home, anyone sick or infected should separate themselves from others by staying in a specific "sick room" or area and using a separate bathroom (if available). Start making a contact list for "close contacts" that you have been around 48 hours prior to symptom onset. Let your contacts know that they may have been exposed.
If you have been within six feet of a confirmed COVID-19 case for at least 15 minutes, please self-quarantine at home away from others for 14 days after the last contact with the case and monitor for symptoms of COVID-19. If you are being tested for COVID-19, please self-quarantine at home away from others until test results are available.
Every business needs to utilize CDC guidance to prepare a pandemic plan if not already done.